Craniomandibular Osteopathy
Since early 2012 the BGV Club has been aware of instances of craniomandibular osteopathy in BGVs.  Known cases were mainly in GBGV puppies, though a couple had also been reported in PBGVs.

The BGVC Health Sub-Committee has been monitoring the condition in the breed and the Third World Congress at Warwickshire in November 2012 gave the opportunity to make representatives worldwide aware of the problem.
 


A TALK ON CRANIOMANDIBULAR OSTEOPATHY AT THE THIRD BGV

WORLD CONGRESS, WARWICKSHIRE, 2012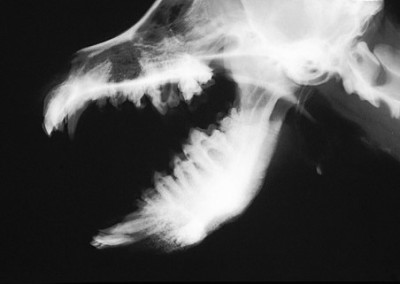 WHAT IS CRANIOMANDIBULAR OSTEOPATHY?
Sometimes known as "Lion Jaw", craniomandibular osteopathy (CMO) is a bone disease of growing dogs.  There is excessive, abnormal bone growth of the skull and lower jaw.  Irregular enlargement of the affected bones results in extra bone growing on the surface of the lower jaw, making it wider and thicker.  It may also affect the jaw joint. In severe cases, the excess bone may prevent the jaw joint from opening and closing normally.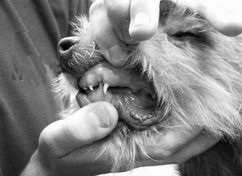 WHAT CAUSES CM0 AND WHICH BREEDS DOES IT AFFECT?

The cause of CMO is unknown. It is neither cancerous nor caused by inflammation.  It is an inherited condition known mainly in several terrier breeds, though has been reported in a few other breeds.
WHAT ARE THE SIGNS OF CMO?
The signs of disease usually occur between 4-8 months of age. There is swelling of the jaws, difficulty eating and pain on opening the mouth.  Sometimes opening the mouth proves difficult or practically impossible.  Dogs may drool and be depressed.  Often the body temperature will fluctuate over time, with fever occurring in phases every 10-14 days. In severely affected dogs, the muscles used for chewing may atrophy and there may be swollen glands.
X-rays of affected dogs demonstrate irregular thickenings of the various facial bones. It may be necessary to sedate or lightly anaesthetise the dog to obtain good x-rays, since it is a painful condition and the dog may not lie quietly.
IS CMO INHERITED?

Although the mode of inheritance is known to be autosomal recessive in West Highland White Terriers, in other breeds including the BGV the mode of inheritance has yet to be determined.

WHAT DOES CMO MEAN TO YOUR BGV AND YOU?
Your puppy may have a swollen and painful lower law, or have trouble opening the mouth or eating, or drool excessively. You may not notice all of these problems continuously; the signs may seem to flare up at times then get better. This disease is "self-limiting." Abnormal bone growth will typically stop and begin to regress by one year of age.  So, after your puppy is a year old, the condition will probably not get worse - and should get better. However if there has been severe bone growth, especially involving the jaw joint, the excess bone may not go away on its own. In some cases, particularly if the jaw joint is not working properly, your BGV may need surgery. Your puppy's condition is more serious and the prognosis is guarded if there is excessive bone growth on the base of the skull.
HOW IS CMO DIAGNOSED?

Your vet will diagnose this disease based on physical examination, history and x-rays.
HOW IS CMO TREATED?

There is no treatment to stop the disease from getting worse; it will usually get better as your puppy grows up. Pain can be relieved with anti-inflammatory drugs. Your puppy may need surgery in certain severe cases.

WHAT YOU CAN DO

If you have a BGV affected by this health problem, contact Health Sub-Committee members Peter Marks or Vivien Phillips who will help you to send cheek swabs to the AHT.  These need to go with pedigree and a report from your vet.  There is no charge for this research.