ANSWERING YOUR QUESTIONS ABOUT DNA TESTING   

DO ALL PBGVs NEED TESTING REGARDLESS OF AGE?   YES!!!  Certainly all breeding stock should be tested. However, in the knowledge that a Clear to a Clear mating will produce all Clear puppies, consider which PBGVs need to be tested.  If you own several you may not need to have all of them tested as you may be spending money unnecessarily. Look at your pedigrees and start with the older hounds. In many cases this will entail liaison between breeders where one has used another's stud dog. If both sire and dam are tested Clear, off-spring from that mating will automatically be *Hereditary Clear, thus no need to test them. However, with the various possible permutations, any other than progeny from two Clear parents will require testing to establish their status. This is especially important with those destined for reproduction, as the key to managing genetic conditions with a DNA test through successive generations is in knowing exactly where the faulty copies of the genes are.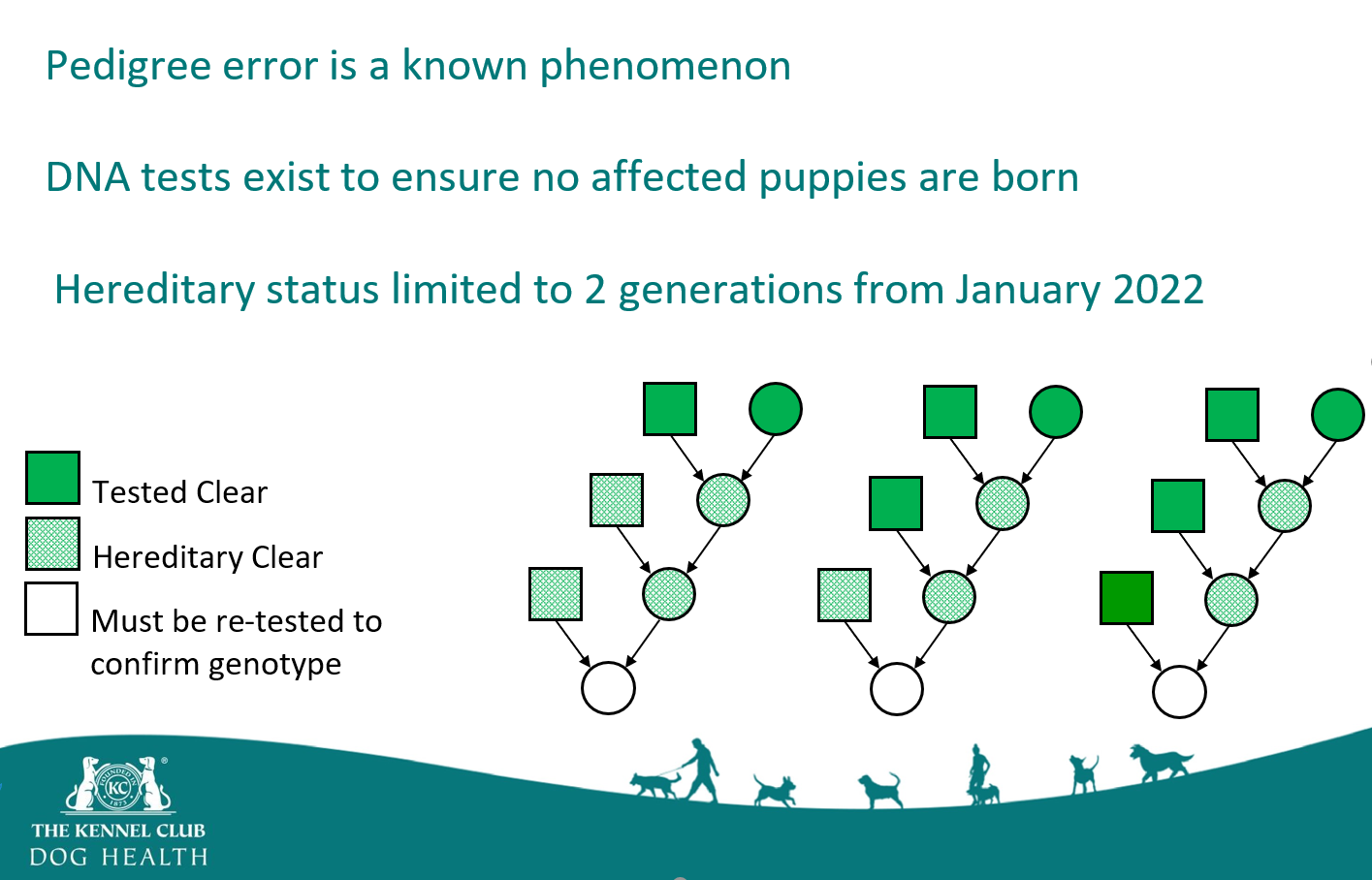 *   From Vivien Phillips
............ an update from the KC regarding DNA testing of Hereditary Clear Dogs. Pedigree error is a known phenomenon. DNA tests exist to ensure that no Affected puppies are born. The Hereditary Clear Status will therefore be limited to two Generations from January 2022, i.e. great grand progeny (3rd generation) will need to be tested.
IF A BREEDING BEWEEN TWO CLEARS BEARS NO RISK, WHAT ARE THE CONSEQUENCES OF OTHER MATINGS?  This chart shows the likely outcomes of various breedings: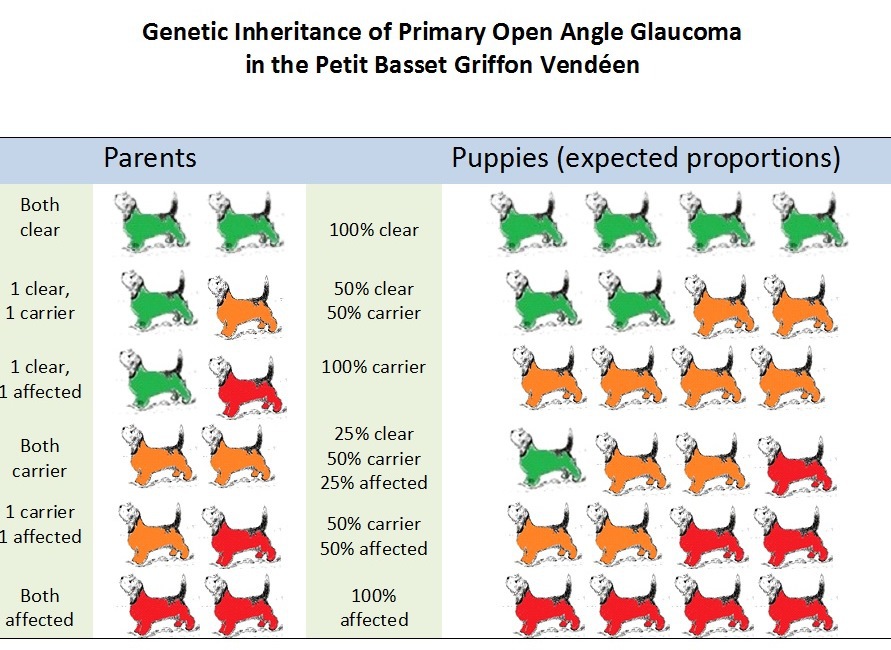 For example, a Carrier can still be used for breeding purposes but the Carrier will need to be put to a Clear to avoid producing Affected offspring. The resultant litter from such a mating would produce on average 50% Carriers of the mutation. Although statistically two Carriers will produce Affected and Clear, this isn't guaranteed. Each dog carries one good and one faulty gene, so there is a chance that both sire and dam passed on their good gene.
 
As a breeder, even if you endorsed your puppies "Progeny not eligible for registration", based on known test results of the parents, if your litter is other than 100% clear, it will be your responsibility to contact those who bought a puppy from you, advising they get their PBGV's DNA analysed if they intend breeding - and making them alert to the possible consequences of reckless breeding.

SO SHOULD WE BREED FROM CARRIERS?  Cathryn Mellersh at the Animal Health Trust produced a valuable and useful paper on the subject giving advice that Carriers should always be included in the first one or two generations that follow the launch of a DNA test  for a recessive mutation. 

This is regardless of the frequency of the mutation as it gives breeders the opportunity to capture desirable traits, such as breed type and temperament, before they start to select for dogs that are Clear of the mutation.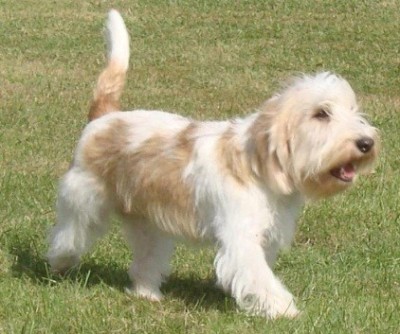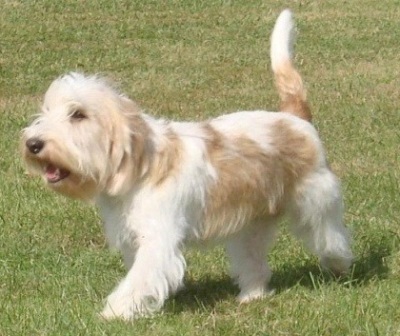 WHAT IS THE DIFFERENCE BETWEEN ORDERING SWAB KITS AND ORDERING SWAB TESTING?  The Animal Health Trust will provide swab test kits free of charge if you let them know how many you need by e-mailing them.

When you have a kit and have swabbed your PBGV's mouth, you can order the actual swab testing and analysis by going on the AHT website www.ahtdnatesting.co.uk/ inserting your hound's registration details and microchip number - and any discount code you may have - then paying for the test on-line by credit or debit card.

IS VETERINARY OR OTHER RESPONSIBLE CONTROL NEEDED WHEN SWABBING?  The AHT will accept swabs done by the owner, though their on-line form contains space for a vet to confirm that he/she has checked the microchip number during swabbing, if you so wish.

DO I GAIN ANY BENEFIT FROM BEING AN ASSURED BREEDER? As a Kennel Club ABS member, you are entitled to a discount. Go onto the Kennel Club's MyKC site, log on, go to the Special Offers page and there you will find a 30% discount code from the AHT for their DNA tests for genetic diseases.

DO ANY CONDITIONS APPLY FOR AN ASSURED BREEDER? As a Kennel Club ABS member,  you are obliged to DNA test your PBGVs.  This became effective from 20 July 2016 and there was a six months' grace in which to comply.  It will not be necessary for those who breed from a Clear sire and Clear dam, as the offspring will be automatically clear (but see * above).

THE AHT ALREADY HOLDS MY PBGV'S SWABS, DO I NEED TO RE-SUBMIT?

If a sample has been used in the AHT's research and contributed towards finding the causal mutation, they usually report their findings directly to the owner after a DNA test is launched. For PBGVs, only a few cases were used to achieve this goal. PBGVs whose eyes are OK were not needed. While an increase in the intra-ocular pressures would indicate a case, an absence of this increased pressure doesn't necessarily indicate an unaffected control - the PBGV could be a carrier.

Submissions for DNA testing should ideally be traceable from when the order is placed through to providing the result. An exception to this is where a new sample is unobtainable because the dog has passed away since the research sample was submitted.  Ask the AHT if you want a Letter of DNA Analysis and give a donation to help with the cost of analysis.